What To Name Your Rhodesian Ridgeback? Handcrafted list of names.
With so many options out there it may prove difficult to make a choice. So with that in mind, we have put together a list of names specifically for Rhodesian Ridgeback.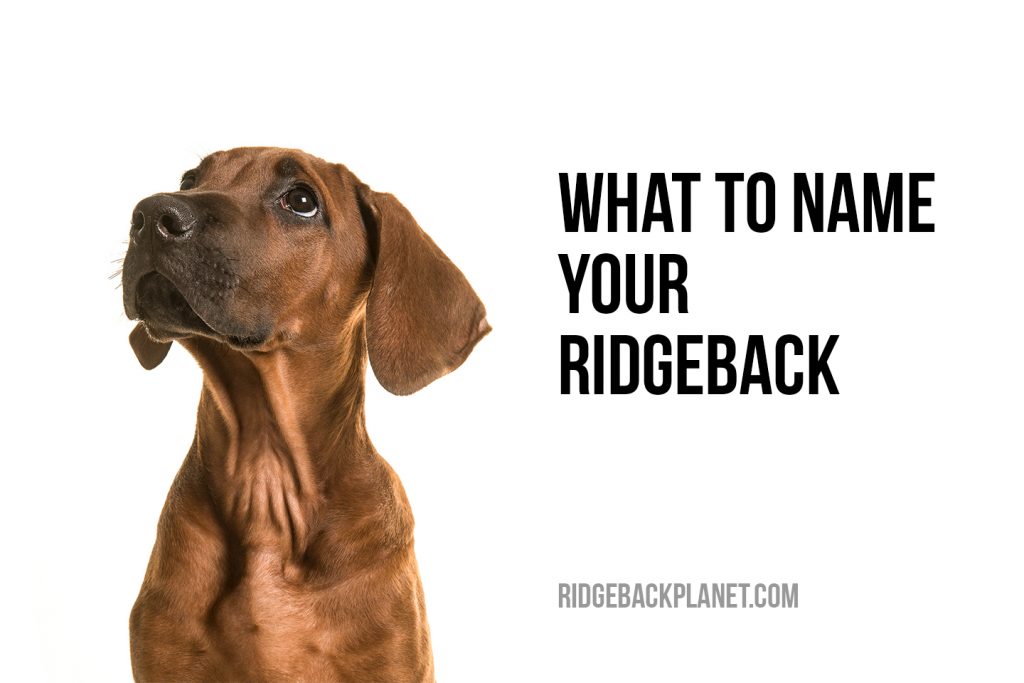 Tips, Unique Names, And What Your Name Choice Might Say About You
The chances are that if you are reading this, you have either decided to get a Rhodesian Ridgeback, or have just got one! So, first of all let me congratulate you on a great decision to add this wonderful breed of dog to your home. You have chosen a fabulous new family member that will bring you many years of joy.
Since you have picked the perfect Rhodesian Ridgeback puppy, you will now want to find the perfect name. This is not always easy considering that there are a myriad of choices out there. Just like baby names, dog names also rise and fall in popularity, with names springing up due to the latest cultural trends.
With so many options out there it may prove difficult to make a choice. So with that in mind, we have put together a list of tips and considerations that we hope will be of some help.
Tips And Considerations When Naming Your Rhodesian Ridgeback
Whilst naming your Rhodesian Ridgeback is about finding a name that you like, and one that perhaps also suits their personality, they are not the only things to take into consideration. Following is a list of ten things you may also want to take note of.
Be careful to choose a name that you truly, truly like as you are going to be using it a lot. This is especially true of when your Rhodesian Ridgeback is a puppy and they are being trained.
Pick a name that only contains one or two syllables as these are more easily understood by your dog. Names such as Meg, Polly, and Brandon are perfect.
Try out any name you pick for a few days to see how well your dog responds to it. As a new puppy a change of name is easily accepted.
Avoid names that sound like commands you are teaching your Rhodesian Ridgeback puppy such as Fletch (fetch), or Shae (stay). Using names like these will only confuse your puppy as to whether you are calling them or asking them to perform a task.
Don't name your puppy anything that could be seen as being offensive. This includes any racial, political, cultural slurs, and general insults.
Try not to pick any name that is too complicated such as Sir Waggy Von Waggleton unless you plan on shortening it. These are a hassle for you to say and your dog may not understand them.
Avoid changing your puppy's name once they have become used to it fully. This will just cause confusion for your dog. You may, however, be able to change your Rhodesian Ridgebacks name from something like Hailey to Bailey as they sound the same.
Names with sharp consonants have been found to be the ones that dogs respond best to. This is because they hear high-frequency sounds very well. Suitable names in this group would have S, Sh, Ch, K sound at the beginning.
If you want to name your Rhodesian Ridgeback after a family member or friend always check with them that this is OK. Not everyone will see what you think is a nice gesture as flattering.
Try to avoid the popular names as these can cause confusion at dog parks, vets, training courses, etcetera, etcetera.
Regardless of any tips that you are given, you are going to choose a name for your Rhodesian Ridgeback that you like, and so you should. But did you realize that the name you choose also may speak volumes about you? Just like an owner, supposedly, looks like their dog, their name can give away owner personality too!
Puppy Names, What They Say About You!
The majority of names that we give our beloved pooches fall into a number of categories that also, according to research, say quite a bit about who we as owners are. Read on to see what any name you are thinking about says about you, or to choose one based upon your personality!
Animal Names – People who choose to name their Rhodesian Ridgeback after a species of animal are in general the outdoor type with a strong desire to travel. They are active and strong and unsurprisingly have a huge love for animals.
Names include: Bear, Teddy, Moose, Rabbit, Mouse, and Python.
Human Names – People who give human names tend to see their dogs as their sons or daughters. They spoil their dogs, allowing them to eat off their plates. Human names are by far the most popular category of name given to animals.
Names include: Charlie, Max, Bruce, Meg, Polly, and Amy.
Disney Names – Clearly people who give Disney names to their dogs must love Disney films. They are also optimistic, love goofing around, and believe strongly in happy endings.
Names include: Nala, Lady, Elsa, Grumpy, Moana, and Charming.
Cutesy Names – Not in general a category of names that is used for the large and rambunctious Rhodesian Ridgeback. However, people who do choose these names are those who watch endless cute videos of dogs online, and want to adopt every dog they see.
Names include: Fluffy, Baby, Squishy, Bubbles, Milly, and Pumpkin.
Pop Culture Names – People who pick pop culture names tend to be trendy and always know what the latest things are that going on in the world. They can give you the name of every film due for release and come across kind of nerdy.
Names include: Dexter (Dexter), Daenerys, and Shadow.
Food Names – In general people who name their Rhodesian Ridgeback after food tend to be incredibly sweet and love all things adorable. They are the type of person that would find it hard to choose between a food name and cute. They also tend to love good food eaten in good company at home.
Names include: Ginger, Peanut, Rhubarb, Pepper, Candy, and Spud.
Quirky Names – People who pick quirky names tend to have an out there personality and couldn't be happier about being different. They don't, in general, care what anyone thinks of them, or their dogs name.
Sports Names – Usually the domain, without being sexist, of the single male Rhodesian Ridgeback owner. People who name their dogs after sports or sporting heroes tend to live, breathe and eat all things sport.
Names include: Chase, Sampras (Pete), Tiger (Woods), and Champ.
Power Names – people who choose power names generally think of their dog as a superhero and want other people to know it. They are saying to the world 'my dog's tough, protective, and deserves a name that reflects that'.
Names include: Zeus, Tyson, Mars, Winston, and Rocky.
20 Unique Rhodesian Ridgeback Puppy Names
If you're still struggling to decide on a name for your new Rhodesian Ridgeback puppy, don't worry. Here is a list of our favorite unique monikers for you to choose from.
Cooper – Warning! A bit of bias coming up as Cooper, or Coop for short, is the name of my very own Ridgeback. He is named after a character in one of my favorite films, Interstellar. For those who don't know, Interstellar is the tale of former NASA pilot Cooper, who is sent to find out which of three planets could be mankind's new home.
Ridgeway – Technically a ridgeway is a track or road that runs along a ridge. Not the most exciting reason to give the name to a dog, I know. However, it pays homage to the very trait that the Rhodesian Ridgeback is famous for; the ridge upon its back.
Rooyen – Another name that pays tribute to the Rhodesian Ridgeback itself, Cornelius Van Rooyen was the man who originally selectively bred this breed. For a long time the Rhodesian Ridgeback was known as Van Rooyen's lion dog so it's definitely a fitting name. For any sports lovers out there Rooyen could also refer to Erik Van Rooyen, the South African golfer.
Thera – A unique sounding name that belongs to a volcano on the Greek island of Santorini. Thera was responsible for one of the largest volcanic events on earth in all recorded history.
Demeter – A dual meaning name that could be used for both male and female Rhodesian Ridgebacks. In the feminine form Demeter was the Greek Goddess of agriculture, and in the masculine, the name of Dracula's Russian ship.
Juno – The Roman Goddess and protector of women in Rome. She was married Jupiter, and the daughter of Saturn; another two good strong names.
Diva – With their outgoing personalities and independent natures Diva is an excellent name for a Rhodesian Ridgeback. This title is often used to describe celebrated female singers.
Chaucer – A classy name taken from the 15th century 'father of English literature'. He is perhaps best known for his work 'The Canterbury Tales', from which the film 'A Knight's Tale' was adapted.
Rembrandt – Considered one of the greatest visual artists of all time, Rembrandt was a 17th century Dutch painter whose most famous work was 'The Night Watch'.
Digby – Taken from a 1973 film about a dog who eats a space researchers food growth product. Unsurprisingly, he becomes as the film title says, 'Digby, The Biggest Dog In The World.'
Dillinger – John Herbert Dillinger was one of the biggest gangsters during the Great Depression in the USA. He was thought to be responsible for at least 24 bank robberies amongst other crimes.
Sherlock – Sherlock Holmes is the most famous creation of the writer Arthur Conan Doyle. It is very fitting for a Rhodesian Ridgeback as their ears resemble the flaps on Sherlock's deerstalker hat.
Marigold – An incredibly pretty name that belongs to a beautiful golden orange garden flower. It pays homage to the glorious color of the Rhodesian Ridgeback coat.
Maverick – Undoubtedly this is a name best known because of its use for the main character in the film 'Top Gun'. However, it is also a word used to describe someone that is unorthodox and independent, which Rhodesian Ridgebacks certainly are.
Dante – A fantastic and very under utilized name that is perfect for a Rhodesian Ridgeback. For those who don't know, Dante was an ancient Italian poet and writer responsible for the famed 'divine Comedy'.
Calypso – A great name that exudes the exuberant, outgoing, and loveable personality of the Rhodesian Ridgeback. Not only is calypso a bright and lively song but also a nymph in Greek mythology.
Pavlov – A Russian physiologist who in 1904 won a Nobel prize for his experiments on dogs. Unfortunately, his practices now are considered as grisly by some, though he never used vivisection or caused the death of any dog.
Laika – A stray dog from the streets of Moscow who went to space in 1957. Unfortunately, she did not make it back down to earth but the name which is not used enough, is a fitting tribute.
Hunter – Probably the epitome of apt names regarding the Rhodesian Ridgeback. This is due to their history being well and truly rooted in the hunting group of dogs, and their abilities in this field to this day.
Sunshine – Plain and simply because a Rhodesian Ridgeback will absolutely be the sunshine of your life.
10 Cute And Funny Pairs Of Names For Rhodesian Ridgebacks
It may be that you have decided to not just get one gorgeous Rhodesian Ridgeback, but two. If this is you, here is our choice of paired up names to give you some inspiration, including an all male pairing.
Fred and Ginger – The delightful dancing duo that graced our screens and glided across the floor together for many years. They are an iconic pairing that no one will miss the reference to.
Ronnie and Reggie – Known as the Kray twins, Ronnie and Reggie were the all time most feared gangsters of London.
Sonny and Cher – They've got you babe and given us a perfect pair of names. This pairing is fun and playful like the couple themselves were before they got divorced.
Ross and Rachel – Probably the most iconic couple in all of TV history. You'll struggle to find anyone who doesn't know who they are.
Romeo and Juliet – Star-crossed lovers from the pages of Shakespeare who are the epitome of tragic love.
Aladdin and Jasmine – Cheeky street urchin meets gorgeous princess and fun and games ensue. Of course love wins out in true Disney style.
Venus and Mars – Since men are from Mars, and women are from Venus this is the perfect name pairing for a male and female.
Jack and Jill – A really simple but effective name pairing taken from the well-known children's nursery rhyme.
Adam and Eve – The first ever couple in the world, according to the bible who need little or no introduction.
Mickey and Minnie – The original Disney couple that still remain popular to this day. It may be worth considering, however, that the beginnings of both names sound very similar which may confuse your dogs as to which you are calling.
Great Rhodesian Ridgeback Names By Theme
Another great way to choose a Rhodesian Ridgeback name can be by picking from a theme. The following are some examples which contain some really great, but maybe not obvious, names.
Flowers – Rose, daisy, tulip, daffodil, lily, orchid, bluebell, lavender, iris, carnation, freesia, azalea, aster, amaryllis, crocus, dahlia, heather, jasmine, lilac, magnolia, narcissus, and violet.
Pop Stars – Elton, Beyonce, Sheeran, Ezra, Prince, Madonna, Mercury, Axl Rose, Paloma, J Hud, Cher, Tina, MJ, and Ariana.
Famous Writers – Shakespeare, Wordsworth, Rowling, Doyle, King, Twain, Woolf, Hemingway, Steinbeck, Austen, Christie, Bronte, and Salinger.
Famous Artists – Van Gogh, Monet, Manet, Constable, Renoir, Picasso, Hockney, Da Vinci, Warhol, Matisse, Michelangelo, Dali, Cezanne, and Titian.
Kings and Queens – Henry, George, Louis, Mary, Elizabeth, Canut, Edward, William, James, John, Richard, and Charles.
Car Manufacturers – Buick, Bugatti, Mercedes, Ferrari, Porsche, Chrysler, Citroen, Dacia, Aston, and Chevrolet.
A Few Final Words On Naming Your Rhodesian Ridgeback
The most important thing to remember when naming your new Rhodesian Ridgeback, is that the name you pick will be a name you use every single day for many years. Therefore, it is no good picking a name that you don't really like, or is a pain in the neck to say.
Keep it simple, keep it to something you like, and don't pick anything you will be embarrassed by. After all, no one wants to walk round the park shouting 'come here poophead.' We have given you a myriad of suggestions here and there's plenty more where they came from.
Finally, if you're having some difficulty settling on one name due to members of the family not agreeing on one, you could always use the hat method. This is where all of the names everyone likes are written down, placed in a hat, and just one is picked out.
You do, however, have to be prepared that you may end up with a name that you, personally, do not like in this scenario. Cheating, by not putting really ridiculous, or horrendous names into the hat is not acceptable – wink wink!