Taking your Ridgeback on holiday. Use these tips to prepare. - The Pets and Love
Is it possible to take your Rhodesian Ridgeback on holiday? In this article, I will share some of the best advice that I have gathered about taking your Rhodesian Ridgeback on holiday.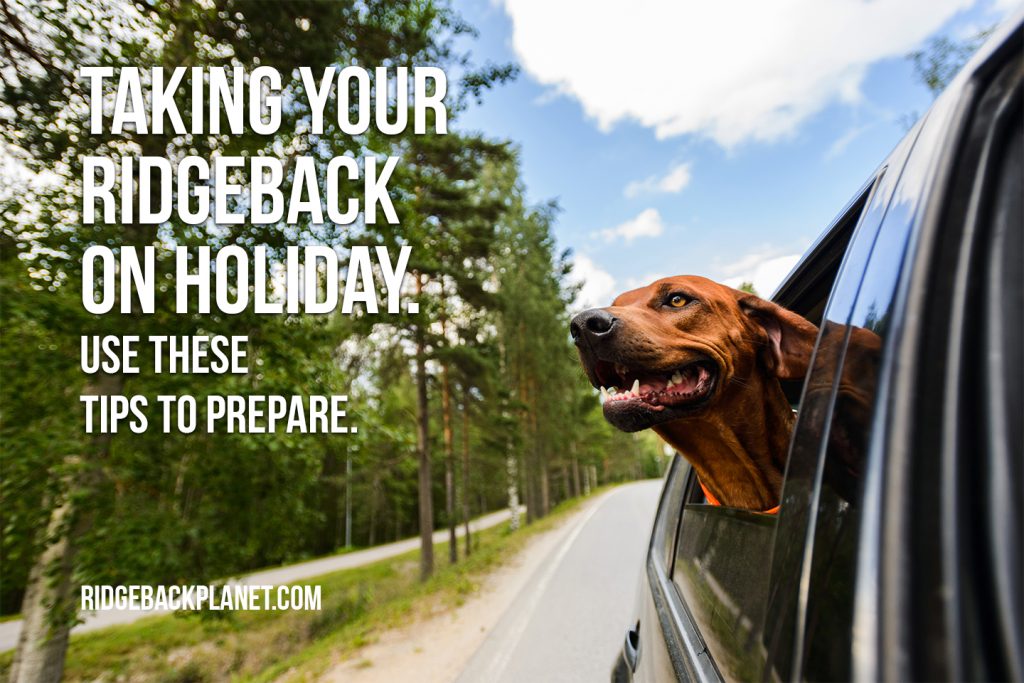 What is more fulfilling than owning a pet? Us, pet owners know that caring for your furry companion is one of the most rewarding things that life has to offer. But what happens when it's finally time to take a well earned break and go on holiday? Well, you could board your Rhodesian Ridgeback with a trusted friend or family member, or in a kennel, while you jet off somewhere exotic. OR, you might be considering taking a vacation where your pet can join and come along with you! If you are in the United States, this is a very easy feat and it's no harder doing the same thing in Europe or Australia; just hop in the car and go! Yes, it can be as easy as that. In this article, I will share some of the best advice that I have gathered about taking your Rhodesian Ridgeback on holiday.
Is it possible to take your Rhodesian Ridgeback on holiday? The answer is yes! This article will help to answer any questions or queries that you might have about taking your best pal away with you on vacation. A few of my top recommendations for a vacation with a Rhodesian Ridgeback include hiking vacations and camping vacations, because this type of dog typically loves to exercise!
Transporting your Rhodesian Ridgeback Safely and Successfully in a Car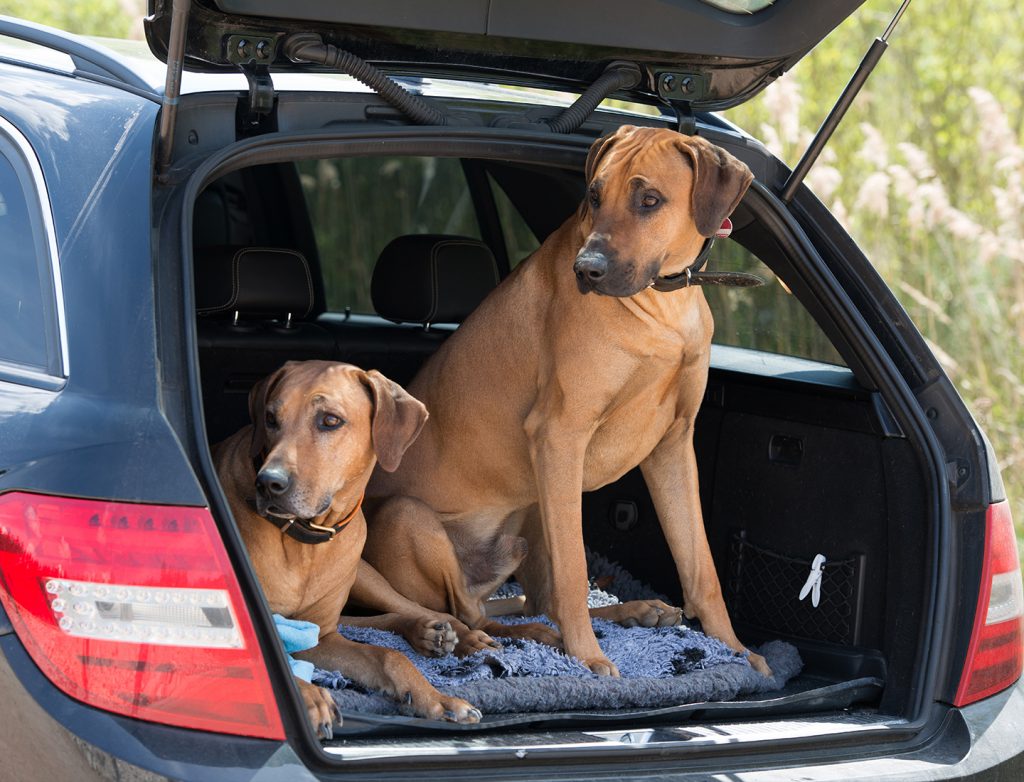 Do you take your dog on day trips for a walk or hike in an exciting new place? Going on holiday by car with your Rhodesian Ridgeback can be as easy as a day trip out. However, there are some steps you should follow and during a long car journey with your dog.
Before you travel:
Take your dog on lots of small trips around town to acclimate them to car journeys, and so that you can gauge things such as car sickness.
Feed your Rhodesian Ridgeback a small portion of food before you begin your journey so that it won't become hungry during the travel.
Take your dog on a walk 30 minutes before you set off in the car so that he can "do his business" before the long trip. Do not remove the leash after the walk.
Research where you will be staying with your dog (if you are staying in a hotel) because, although it may say online that the hotel is dog-friendly, it's best to call them first to double check.
During Travel:
Will your dog be traveling on the back seat, in the trunk, or in a carrier? If you are taking your Rhodesian Ridgeback in a carrier, ensure to get a reasonably sized one that is fully breathable so that your dog can relax during the journey. Crash tested crates are also better, for obvious reasons.
Stop every few hours along with your route so that your dog (and yourself) can eliminate and get some exercise.
Stick to your dogs' usual feeding schedule and only feed it at these times.
If you absolutely must leave your Rhodesian Ridgeback alone in the car on your trip, try to leave them for as little time as possible, park somewhere they can see you, and leave the windows cracked so that they are able to get some fresh air.
Turn off power windows. If your windows open with the simple press of a button, this can be very easy for your dog to accidentally activate and could lead to devastating circumstances.
Bring a water bowl. Dogs need regular access to fresh water, and an excited dog in a car may want to drink more to make up for the excitement of the journey! Need to save on space? How about investing in one of the cool silicone expandable water bowls?
Ideally, dogs should be restrained while in the car in order to avoid causing an accident. This can be done with a dog seat belt, a cage, or a partition (dog guard).
Will it be hot and sunny where you are traveling? Invest in some sunshades for the window so that your Rhodesian Ridgeback is not sitting in a patch of blinding sun for hours.
Travel Accessories
Good quality accessories are important while transporting any dog, but particularly with a dog the size and strength or a Rhodesian Ridgeback, these are particularly important. What about your car seats? Did you spend a lot of money on a fancy car, and you're worried your Rhodesian Ridgebacks weight may cause its nails to damage the upholstery? Is your dog shedding like there's no tomorrow and you don't want the hassle of having to vacuum all those tiny annoying hairs off your car seats after you return home from your holiday? Maybe you should consider investing in a good car seat cover set.
Best Car Seat Covers for Dogs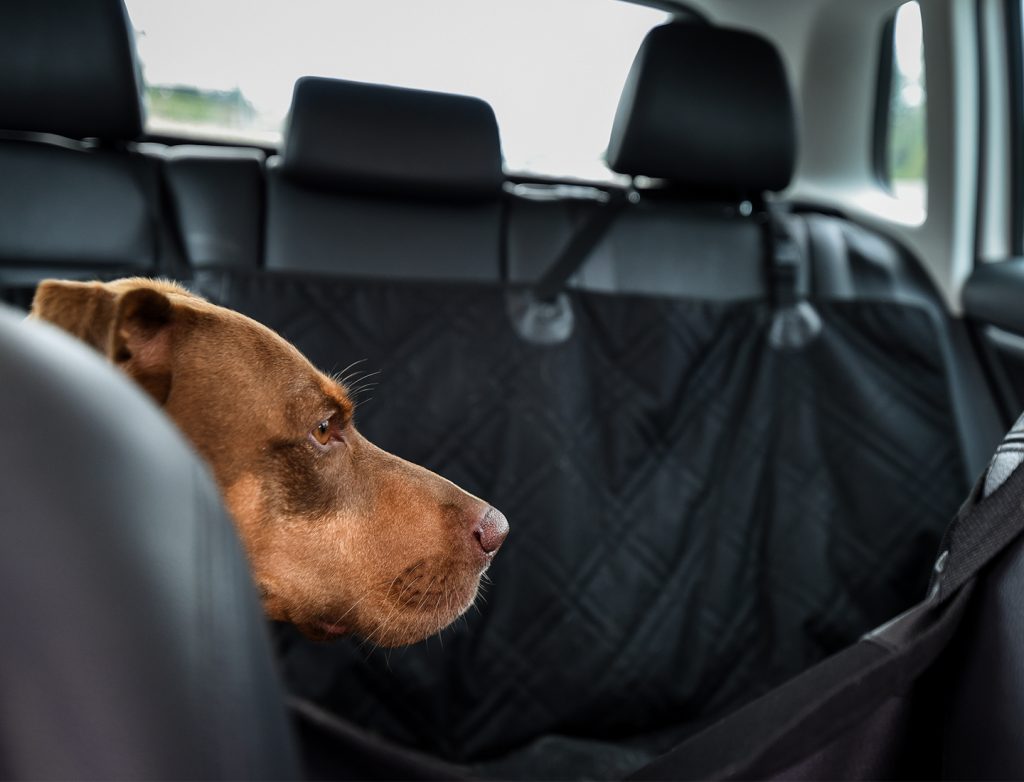 Knines Dog Seat Cover
The Canines Dog Seat Cover with Hammock is a runner for the top spot here. Knine products are durable and easy to use, and I think that they are worth paying the extra money for. This seat cover is waterproof, non-slip, easy to install and remove, and easy to clean. What's more, the straps are UV protected so won't brittle and fray, it's padded for comfort, it comes in two sizes (regular and extra-large) and three colors (black, grey, and tan), and it has a lifetime warranty!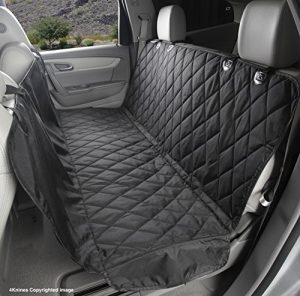 Plush Paws Pet Seat Cover
Another top runner in my competition for the best car seat cover is the Plush Paws Pet Seat Cover. Don't let the name fool you, as this cover shares many features with the Knines Seat Cover, including durability, waterproof, non-slip, machine washable, AND lifetime warranty. This seat also comes in two sizes (regular and extra-large), and three colors (black, tan, and grey). However, many customers have reported that it is difficult to install.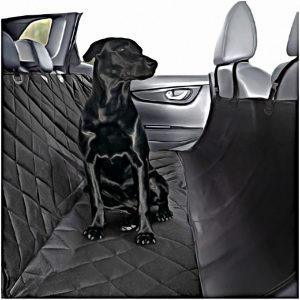 Barks Bar Luxury Pet Seat Car Cover
This car seat cover is rated as one of the best in its price range on Amazon if you want something on the cheaper side. This car seat cover is also easy to install and remove, is machine washable, is durable for its price, and comes in two sizes for you to choose from. However, the straps are not UV protected so have been reported to fray with time, and the material is less durable so has been reported to rip after a few months. If you are transporting a Rhodesian Ridgeback, you probably want something a little more durable!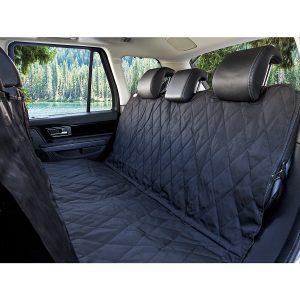 Arf Pets Cargo Liner
The reality is, if you're transporting a Rhodesian Ridgeback, it may not fit comfortably into your back seat, so you will have to travel with your dog in the trunk! This Trunk liner is our top pick in this niche due to its ease of installation, it's machine washable, it's waterproof and made from durable materials. It's also budget friendly and non-slip, pulling a high customer satisfaction rating on Amazon. However, some customers have reported that the headrest clips have broken after a few months of use.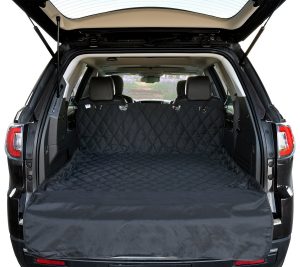 Urpower Pet Front Seat Cover
This is probably a better option for smaller, Ill-behaved dogs. Can Rhodesian Ridgebacks even fit into the front seat?! This seat cover is a budget-friendly option, easy to install and remove, machine washable, and durable. It is good for any dog size, waterproof, and non-slip. However, some customers have reported that it is not 100% waterproof, and the warranty is only 180 days.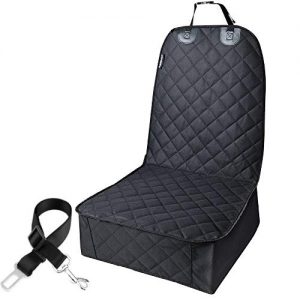 Other Accessories for Ease of Transport
You won't only need a car seat cover when traveling with your furry friend. Here are a few other items that I think are particularly useful for travelling with a pet, especially a large dog:
Hilike Travel Bag for Dogs and Cats
This travel cag comes with everything you need to ensure that your Rhodesian Ridgeback has a comfortable and relaxing journey. This bag contains many pockets of different sizes, enabling you to neatly organize and store your pets travel accessories, food, etc. This bag also contains silicone water bowls and dog food bags which are easy to clean and can double as food bowls.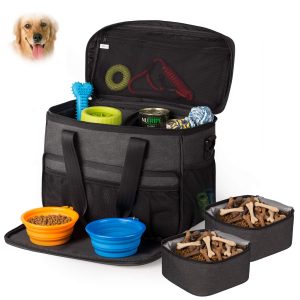 INNX Pet Barrier
Is your dog constantly trying to jump into the front seat while you're driving? Not only is this annoying, but it's also dangerous! That's why I like this pet barrier. It's a universal size so fits most vehicles, it's easy to install and remove, it's machine washable, and it's durable. It's also cheap, not that you can put a price on safety.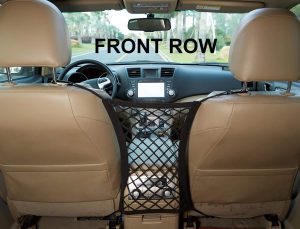 Collapsible Dog Bowls
Your Rhodesian Ridgeback is bound to get hungry and thirsty on the road. Save space in your car by investing in this collapsible dog bowl set. The bowls are lightweight and easy to transport, easy to clean, and made with durable waterproof materials. The materials are FDA approved, and the bowl is the perfect size for a meal for a large sized dog – ideal for a Rhodesian Ridgeback!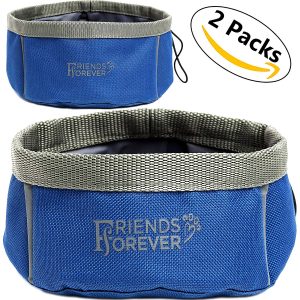 RabitGoo Dog Harness
One more useful accessory for a Rhodesian Ridgeback in my opinion is this no pull super strong dog harness. It has an easy on and easy off design, 2 sturdy metal leash attachment points, and is made with super strong material, perfect for a large dog.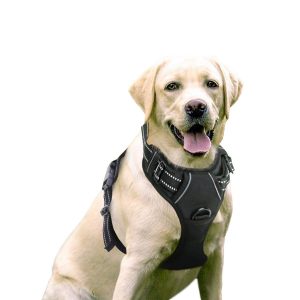 Life4Fun Dog Water Bottle
I thought that this portable dog water bottle is a cool invention because it not only carries water, it can also carry food, and not only that, it comes with 2 bowls attached so the whole contraption stays together and you're not rummaging about in your bag for the extra parts. One bottle can hold 300ml of water AND 250g of dried food, the bottle itself is made with durable and safe plastics and is easy to clean. I am adding this to our wish list!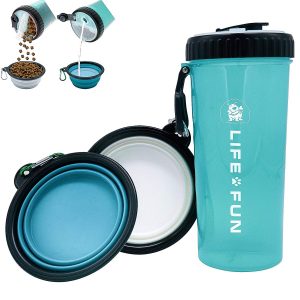 Dog Barrier
Some dogs need to travel in the trunk. Maybe because they are too energetic and therefore pose a danger while you're driving, or maybe they just don't fit comfortably on the seats. Rhodesian Ridgebacks are large dogs, so you may choose to contain your dog in the trunk while you're traveling. This dog barrier is a universal fit and made with high-quality steel. I would recommend buying something durable like this to contain and Rhodesian Ridgeback as their strength could easily tear down a material barrier!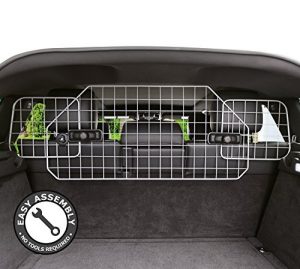 Maybe you are questioning what is really "essential" when travelling with your pet. Well, as long as your pets basic needs are covered, the journey should be comfortable for them. Pets basic needs include; access to fresh water, correct feeding at your pets regular feeding times, fresh air (if you plan on using air con in the car, turn it onto outside air mode so that fresh air is regularly circulating the vehicle), sunlight (if you are travelling at night this may be a problem, but if you are travelling during the day ensure that your Rhodesian Ridgeback can see the sunlight), and habitat. Habitat in a car should be simply a comfortable place for your pet to enjoy the journey.
Staying with Your Rhodesian Ridgeback in a Hotel – Things You Need to Know
The first thing you need to do before staying with your dog in a hotel is research on whether the hotel allows dogs or not. The best way to do this is to call them and ask them directly as you cannot believe everything you read on the internet! Confirm the pet policy before you book your room. Before you go, ensure that your dog is microchipped and clearly tag if you may become separated. Book a room on the ground floor if you can, as this is less distance to go when your dog needs to go to the toilet, and the last thing you want to do on vacation is clean up dog excrement from a hotel floor!
Many hotels also require that your dog is crated when you go out and leave them in the room. Get your dog used to its crate before you stay in the hotel so that your dog sees the crate as a safe space. If you must go out and leave your dog alone, try leaving the TV on so that the sound comforts your dog and muffles the sounds of the hotel which may upset them. Muddy paws and dog fur are also not great in a hotel – take a spare blanket from home to use on the hotel bed to stop your dog from ruining the linen. The smell will also provide comfort for your dog in an unfamiliar environment. While staying in the hotel it is important to stick to your dogs' usual feeding and toilet schedule.
If you have space in the car, you should bring some things that your dog will find comfort in, especially if you plan on heading out and leaving your dog in the hotel alone. Things you can bring that your pet will find comforting include its bed from home, a familiar blanket, and its favourite toys!
Are you wondering how you will feed your dog in a hotel room? This could be tricky if your Rhodesian Ridgeback has a home cooked diet. Easy foods to feed your dog in a hotel include tinned food and dried food. If your dog is used to a home cooked diet or has special dietary requirements then you can pre-make these meals in your home before you leave on your trip and pack them into tupperware containers. Keep these containers in a cooler bag during the drive and then store them in the hotel fridge once you arrive at your destination.
Here are some extra tips that you may find useful for traveling with your Rhodesian Ridgeback. Are you planning to fly your Rhodesian Ridgeback? Many airlines do allow dogs to travel in the hold, but make sure to research this before you go! Traveling by car? I hope that this article is self-explanatory, but the main things you need to ensure when traveling with your dog in a car are; is it restrained? Is it fed? Is it watered? Did it go to the bathroom? Is it comfortable? If you follow these tips your ridgeback should have a safe and comfortable journey.
Do you have more specific questions about going on holiday with your Rhodesian Ridgeback? Feel free to contact me and I answer any queries you may have!