Brain Training For Dogs Course – Is It Actually Worth It?
|
Updated on: Sep 13, 2021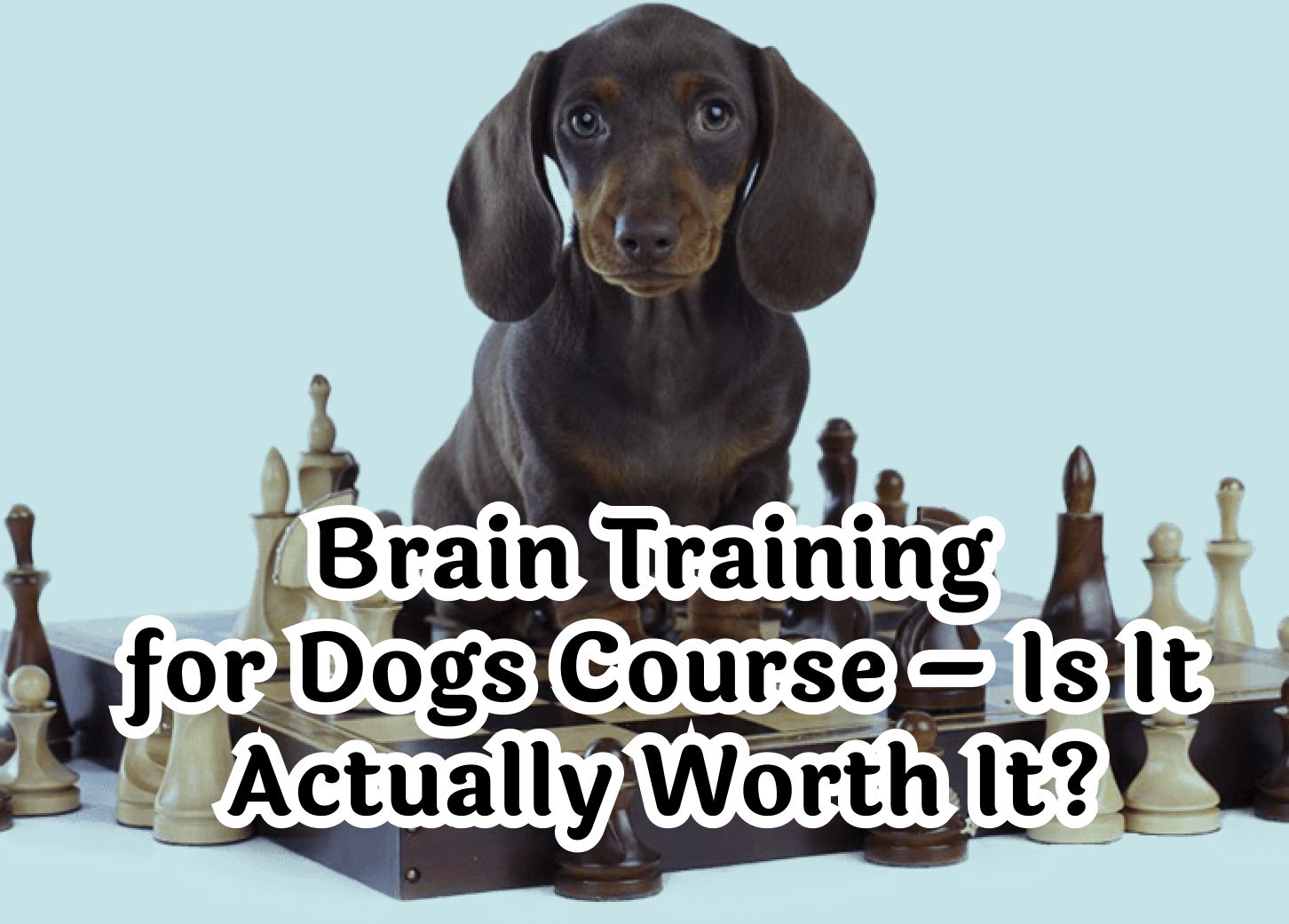 Everyone wants a smart dog. However, once you get your first canine you quickly realize that dogs are very much like people – you need to teach them stuff if they are to know how to do it. And not everyone knows how to train a dog – that's why there are dog trainers and pet behavior specialists out there. If only those didn't cost so much.
There is an alternative, however, and that's online courses. I've tried quite a few of them over the years and, unfortunately, most don't live up to the hype. There's one popular training I tried recently, however – it's the BrainTraining4Dogs by Adrienne Farricelli**.
A certified dog trainer and behavior consultant with over a decade and a half of professional experience, Adrienne has managed to create a dog training program that has everything I'm looking for and isn't just regurgitating the same old tips and tricks everyone knows.
So, suffice it to say that I recommend BrainTraining4Dogs. But you probably still want a bit more details, right? Ok, let's go over everything I like about the program, a couple of notes you'll need to keep in mind, what the course can help you with, and whether it's the right tool for you.
What I like about the program:
First and foremost, it should be noted that the BrainTraining4Dogs is quite affordable. Unlike most other training courses and platforms that ask for a monthly fee, have different payment tiers, and keep major portions of their content behind more and more paywalls, the BrainTraining4Dogs program offers everything for a one-time price of $47.

At first glance, this feels like more than some other programs that boast with their "cut" $15, $20, or $25 prices. However, those are always either monthly fees, parts of the whole course, or just small and incomplete courses.

In all my experience, I'm yet to find an online training course that's as complete and useful as BrainTraining4Dogs for as low of a price as $47.

It works – it's just that simple. Unlike a lot of fancy programs that try to compile collections of myths, misconceptions, and nonsense in a well-sounding program, BrainTraining4Dogs just sticks to the basics. It goes over obedience training, for example, and uses it as a jump point to everything else. Check out this breakdown of the obedience training course section:
Detailed training – when I say that "it covers the basics", don't think that that's all the course does. Instead, it goes over every aspect of every training program. Clicker training, lures, recalls, heeling, hand signals, impulse training, maintaining eye contact, and much more – it's all covered in a step-by-step manner.
The program is made and led by a well-known and experienced US dog trainer, Adrienne Farricelli. Without gushing over Adrienne too much, let me just say how impressed I was with her knowledge and understanding of dog training. I wasn't aware of her before I discovered BrainTraining4Dogs but she is a very renowned and famous training in her field. She also has a CPDT - KA certificate, meaning that she is a Certified Pet Dog Trainer - Knowledge Assessed.

There is a 100% money-back guarantee if you're not satisfied with the program. Whether you don't like the way it's presented, you thought you were getting something different, or it just didn't work for you – Adrienne aims to maintain 100% customer satisfaction and does so successfully.

The BrainTraining4Dogs completely negates the need for working with trainers or sending your dog to "behavior school". This will save you a lot of time and money that you can better spend with and on your dog. The course is complete and comprehensive and leaves virtually nothing out.

Ok, is this a bit of an exaggeration?

Of course – there are plenty more things you can teach your dog besides this course. However, that's not really the point of the course, is it? It's called Brain Training For Dogs – it doesn't aim to just teach your dog some stuff. It aims to make your dog smarter, more disciplined, to improve your bond and relationship, and to make your life with your dog much easier.

From there – you can find myriad more things to teach and train your dog. But you won't need any more professional help because the BrainTrain4Dogs course makes all further training exceptionally easy.

No force, domination, or negative reinforcement methods. I often mention how much I dislike negative reinforcement dog training and how, for me, only positive reinforcement methods should be used. And that's exactly what the BrainTrain4Dogs program does.

It doesn't rely on you dominating and "commanding" your dog, it requires no aggressive methods like shock collars, and it only uses positive reinforcement. In doing so, the program helps you teach your dog how to do things, how to think, and how to understand. This is infinitely healthier, more effective, and more enjoyable for both you and your pooch.

This is training that lasts. The BrainTraining4Dogs course doesn't teach you how to train your dog to behave when you're around. This is always ineffective because dogs tend to revert to their "untrained" mindset when you're not around.

Instead, this course teaches dogs how to behave and do things the whole time. The course trains your dog how to think, not just how to respond to certain commands.

The course works on improving the dog's motor skills too. This is useful for both senior and overweight dogs, as well as all pooches who need to train both their brains and their bodies.

The BrainTraining4Dogs program includes 7 separate modules. Again – neither of them is locked behind a paywall and you do get everything when getting the program.
The programs are named as such:
Preschool
Elementary
High School
College
University
Graduation
Einstein
As you'd expect, each course is built to lead into the next and they all interconnect very seamlessly into delivering the perfect training experience. They also use various tools including videos and games and not just instructions to read.
The course is very easy to navigate and you'll never get lost in it. The site is very clean and sleek, and even if you're not used to online training courses of any kind, you should have no trouble getting your bearings.

The seventh module teaches the dog to clean up for itself. This is a minor and pretty specific thing to mention, I know, but it's just that awesome. You can literally teach your dog to pick up its own toys and return them to their place or pick up other objects and move them to where they belong. Simply put, you can teach your dog to assist you with various household tasks.
Things to consider:
While I wouldn't say I have any major "negatives" about this course, there are a few things you should keep in mind:
The course needs time. This is a long and extensive program which is a plus. However, if you're expecting a quick and easy process for training your dog, this ain't it, chief. In fact – there is no such thing in general, just in case someone promises you something like that. Proper dog training requires time, patience, and persistence.
Get ready for lots of reading. While the BrainTraining4Dogs course is full of fascinating games and video guides, there's also a fair bit of reading. There's just that much information stuffed in this program.
There are BrainTraining4dogs scammers out there. This is in no way the course's fault but you should be wary of where you're paying. Many scam sites promote the program and various scam "discounts" for it in an attempt to get your credit card information. Never purchase the program from them – instead, use the site or its affiliate partners only.
What is this course helpful for?
You know how I often point out in my text that "This breed is harder to train", "That breed needs more obedience training", or "This breed is not for first-time owners"? That's where the BrainTraining4Dogs program can come in handy. You can use this program for dogs that are:
Dogs of traditionally stubborn breeds
Pets who suffer from separation anxiety
Pups in need of housebreaking/Potty training
Dogs that need anti-barking training
Any dog that needs to go through obedience training (i.e. every dog)
Or, if you just want to have a lot of fun raising an intelligent, playful, and interactive pet
Is it worth it?
As far as I'm concerned – yes, definitely. I've grown to be very skeptical toward such online courses but BrainTraining4Dogs surprised me with how effective, professional, and comprehensive it is.
I know a lot of dog owners just want to get a fun and loving lapdog to hug and love, and don't' want to bother training anything specific. And that's understandable. But, I'd argue that even such a family pet lapdog can take a lot of this course and become a much better pet for you and a much happier dog overall.