17 Things to Consider When Choosing a Dog Groomer
|
Updated on: Apr 28, 2023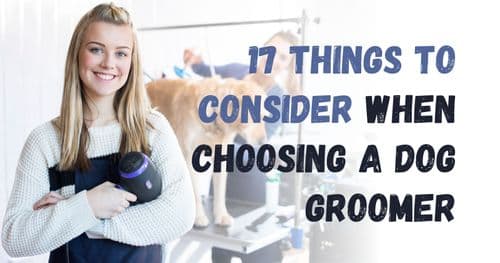 Grooming is essential for your dog's health, and finding a trusted groomer is equally important. A groomer can provide your dog with a comprehensive grooming experience, including bathing, brushing, clipping, and trimming. 
Here are 17 things to remember when selecting a dog groomer to guarantee your dog has a positive experience and the finest service!
1. Make sure that they have professional certifications and training.
Certifications attest to the groomer's commitment to continuing education in the art and science of dog grooming and their familiarity with relevant health and safety standards.  This way, you know your dog receives excellent care from a trained and experienced professional. 
2. Consider the experience and reputation of the groomer.
Experience and credibility are essential qualities to consider when looking for a dog groomer. The more experienced groomer knows how to care for specific breeds properly and understands the breed's special grooming requirements. 
You can also guarantee your dog's safety and well-being because these groomers have improved their knowledge of how to groom canines and handle them through valuable experiences.
3. Look for a groomer that is conveniently located. 
When choosing a dog groomer, having one close to your home or place of employment is helpful to easily facilitate both the dropping off and picking up of pets and the scheduling of grooming appointments. 
If you have large dogs or numerous dogs and you don't feel like making multiple trips to the salon, finding a groomer close to your home can be a huge help.
Finding a groomer near any major transportation hub is the next best option if you don't have one nearby. Doing so will indeed reduce your travel time and effort. 
4. Check the quality and cleanliness of the grooming facility.
Pay close attention to the space's overall cleanliness, ventilation, air quality, tools' functionality, and the dogs' condition in the grooming area throughout your visit. Note your canines' demeanor when you are in the salon and look for whether or not they appear stressed.
A reputable groomer will proudly take you through their spotless, well-kept, secure establishment. Be aware that a lack of cleanliness could indicate poor hygiene standards, increasing the likelihood of your dog contracting an illness while staying there.
5. Evaluate other services offered by the groomer. 
It is crucial to evaluate the variety of other services your groomer provide, such as breed-specific grooming. For instance, your dog may need to be clipped or trimmed frequently. 
It's best to inquire about the groomer's services, whether or not they have experience with your dog's breed. You may also ask about before-and-after pictures of groomed dogs who resemble yours. 
Dog walking, daycare, and boarding are among the extra services that some groomers provide. These services can be helpful if you have to leave your dog for an extended time or want to give your dog more exercise and socialization.
Ensure the groomer can deliver the additional services with the same attention and expertise as grooming before booking them. It's also important to ensure the groomer's additional service facilities are dog-friendly and safe. 
6. Check the groomer's availability for appointment times.
The availability of appointment times is essential when choosing a dog groomer. Find a groomer that can accommodate your dog and offer appointments at a time that suits you. Some groomers may have flexible appointment times, while others may have more limited availability. 
Consider how busy the groomer is and how long the wait times for each appointment are. The best way to do this is to call the groomer or check their website for available appointments and plan your appointment well in advance. 
Some groomers may also have an option for online booking, making scheduling an appointment at your convenience easier.
7. Check out the cost and payment structure of the grooming service.
Finding a groomer who can give the services your dog needs at a price that works for you and your budget is essential. A dog groomer's price and payment plan should be a major consideration; thus, it's vital to ask what's included in the price and whether there are any hidden costs before committing to a groomer since pricing can vary widely.
Ask whether they are charging per hour or by service. Do not fall into false advertising, and do your research diligently. Get a full explanation of the groomer's pricing, and check different establishments to compare and see if you can find a better deal. 
Remember that the price of the groomer's service isn't the only thing to think about, but the value it provides is equally crucial. A less expensive groomer might not do as good a job or might utilize subpar supplies. 
8. Observe how your dog is being handled during the grooming process.
When looking for a dog groomer, you should look at their skill in handling and caring for pets during the grooming procedure. A professional groomer will always exercise caution and concern for your animal's well-being when working with dogs. 
They take the time to ensure your dog is relaxed and content throughout the grooming process. Your groomer must know how to pick up on cues from your dog's body language to safely and effectively work with dogs of varying sizes, ages, and breeds. 
They should be able to keep their cool among anxious or fearful dogs and be willing to take a break if the animal seems overwhelmed.
Before entrusting your dog to a groomer, observing how they treat other dogs is essential. Be sure to inquire about their emergency procedures and whether or if their staff has received any special training in dealing with such situations. 
I recommend asking the groomer for the steps involved in the grooming process if you're concerned about how your dog will be treated.
9. Make sure that your groomer uses high-quality grooming products.
Ensure that your groomer only uses safe, effective, and breed-specific products on your dog. They must know the best products to recommend based on your dog's needs, the products' contents, and the adverse effects.
Consider visiting a groomer that uses more natural or eco-friendly products if you are worried about the environmental impact of their grooming products. Remember that high-quality grooming products are healthier for your dog.
10. Look for a groomer with insurance coverage.
When looking for a dog groomer, ensuring they have adequate insurance and liability coverage is crucial. You and your groomer may benefit from this kind of insurance in the event of an accident to ensure your pet is protected.
If anything were to happen to your pet while they were being groomed, a reputable groomer would have insurance to pay the costs. Everyone involved in the grooming process must know who is accountable for any accidents or property damage that may occur. 
11. Look for the safety measures in place at the grooming salon. 
Ensure that your dog groomer has enough safety procedures in place for their employees and canine clients to reduce the likelihood of accidents and injuries. Examples are adequate exits in case of an emergency, fire extinguishers, and first aid supplies.
12. Find a groomer who can handle your dog's special needs. 
Be sure to look for a groomer that can accommodate your special requirements or needs, such as: 
using hypoallergenic products
preference for a specific grooming style
or caring for a dog with medical issues.
Let the groomer know if your dog has any medical concerns or is anxious or agitated so they can prepare for the grooming process accordingly.
When choosing a groomer, it's also vital to determine if they offer specialized treatments, such as hand-stripping, trimming, or scissoring of certain regions, or working with older or impaired dogs.
13. Consider if your groomer can handle aggressive or nervous dogs.
Finding a groomer who knows how to deal with particularly anxious dogs is crucial. If your dog exhibits violent or frightened behavior, you should let the groomer know and inquire about their expertise and training in dealing with such pets. 
Aggressive or fearful dogs can be managed with the help of a groomer's calming techniques, a peaceful setting, and careful handling.
Remember that not all canine aggression is calculated; some dogs act aggressively out of defensiveness, pain, or stress, and a professional groomer must be aware of these concerns and work with you to ensure your dog has a positive grooming experience.
14. Make sure that you clearly communicate your expectations with your groomer.
When looking for a dog groomer, it's crucial to have open lines of communication with the professional you hire. A reliable groomer will: 
hear you out
consider your preferences
explain everything in great detail
and address any concerns you may have regarding their services.
You should look for a groomer who you can talk to freely about your needs and who is transparent about their rates and procedures. Find out how they deal with problems that may develop throughout the grooming process and if you can expect to receive regular updates on the state of your dog's grooming. 
15. Read the reviews and testimonials from previous clients.
Before settling on a dog groomer, you must read reviews and testimonials from former customers. These might tell you much about the groomer's professionalism and how well they care for your pet. 
Think about the good and bad comments, and search for common threads to help you understand the groomer's standing in the community and the quality of their services.
However, you should not base your entire selection on reviews and testimonials but rather take them with extra care. But they may offer insight that will be useful in making a choice.
16. Find a groomer who can assure you of continuity of service. 
Jumping from one groomer to another is excruciating since you must do your research repeatedly. Service reliability over time should be a top priority when selecting a dog groomer. 
Your dog will benefit from having a regular groomer who provides consistent grooming services, helps them feel more comfortable and relaxed, and is someone they get along with.
A regular groomer will automatically know how to take care of your dog correctly if they have any unique requirements. Sometimes a grooming service employs a team of groomers familiar with the same methods and techniques but asks if it is possible to have a regular one. 
17. Always look for a groomer who is an esteemed professional in everything they do.
The groomer's level of professionalism should be high on your list of priorities. A skilled groomer will treat your dog with the utmost care and devote themselves to giving your pet the service they deserve. This includes keeping a clean and organized workspace and being on time for appointments. 
Additionally, they should have a transparent policy on communicating and resolving any problems that may develop during grooming.
Summary 
To sum up, picking a dog groomer is no joke. Groomers should be compared and contrasted based on the above considerations to help you locate a groomer who will give your dog the best possible service, protecting its health, happiness, and safety while in its care. And in turn, your dog can have the best grooming experience possible!